Kangana Ranaut said people should not be rejected on the basis of their limitations with a language, and they should not be considered 'uncool.'
Just when everyone thought that there's been enough debate on nepotism, with a few from the industry even claiming that it is nothing but the new 'it' word of Bollywood, actor Kangana Ranaut – who started it all – has reignited the discussion. However, instead of charging one particular director like the last time – Karan Johar aka the 'flag-bearer of nepotism' – the Rangoon actor gave a much more intelligent and comprehensive explanation about why the debate on nepotism is essential and it is not just another fashionable term.
At the launch of a new collection of Melange by Lifestyle, Kangana was asked about her opinion on how filmmaker and her mentor, Mahesh Bhatt, backed her on her stand on nepotism. The organisers of the 'fashion event' interrupted and made sure Kangana doesn't reply. Two more questions and the event was announced closed, but just then Kangana had a change of heart as she said looking at that particular scribe, "I would like to answer your question."
She began and spoke for close to three minutes. The actor, justifying her choice to speak on the issue, said that she wanted to talk about her experiences to set an example for people from "unconventional backgrounds," who enter the industry with dreams to make it big.
"If you're talking about nepotism, it's not an objection, it's an observation. I, as an individual… it is my prerogative to leave my footsteps behind for the ones who will follow me. It is important they know where I fell, where I walked, stayed and ran. It's important for me to talk about my own experiences not to say that people shouldn't do what they like to do but what is relevant should be relevant."
Making a strong statement, the actor seemingly spoke from her personal experience in in the industry, and said people should not be rejected on the basis of their limitations with a language, and they should not be considered 'uncool.'
"…Not because someone doesn't speak English, or has sweat patches because they have come in a rickshaw for an audition or someone is sharing an apartment with 10 people in an 'uncool' location. They shouldn't be shamed for that. The doors shouldn't be shut on their faces because of that," she added.
Kangana's well rounded answer also appeared as a dig at her contemporary Anushka Sharma, who also comes from a non-film background. Anushka recently said that if you are good at your work, people will want to work with you, and added that she didn't face any discrimination when she worked with big production houses.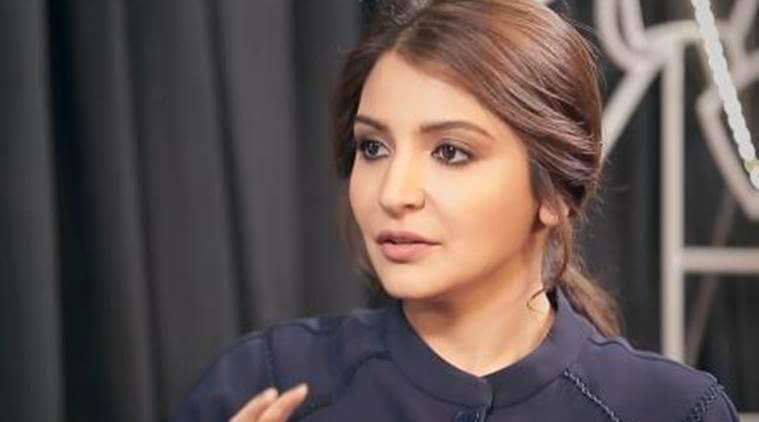 Speaking on nepotism, actor Anushka Sharma had said she believes it all comes down to how good one is at his or her work, one's background notwithstanding.
Kangana's comments today showed how informed she was about who said what on the nepotism debate, as she continued, "What is an outsider? We are all working to make cinema. Anyone working for some other intention is an outsider. So, (in that sense) I don't consider myself an outsider. Whoever comes from an unconventional background, they should work towards it and not call themselves 'oh we have been lucky enough that we didn't face any discrimination or we are the chosen one, the industry has accepted us with open arms'. No, because people like us have been working on it. If today people are working with actresses who come from indie background, or so called 'niche art background,' it's because we have made it mainstream today. We can say a film like Queen is mainstream because people worked at it," the National Award winner said.
Stressing that it's people like her who have brought some democracy to the film industry, Kangana said her work and choices will always be directed towards making outsiders look cool. "The fact that today in the industry we have a lot more democratic environment is also because of people like us who have been working at it. I see newcomers easily say 'I can't talk in English I will only talk in Hindi.' It's because we have made it appear cool. We are going to make outsiders feel and appear cool. That is my prerogative as an individual. If I don't do that then what is the purpose of my journey? This is a healthy talk."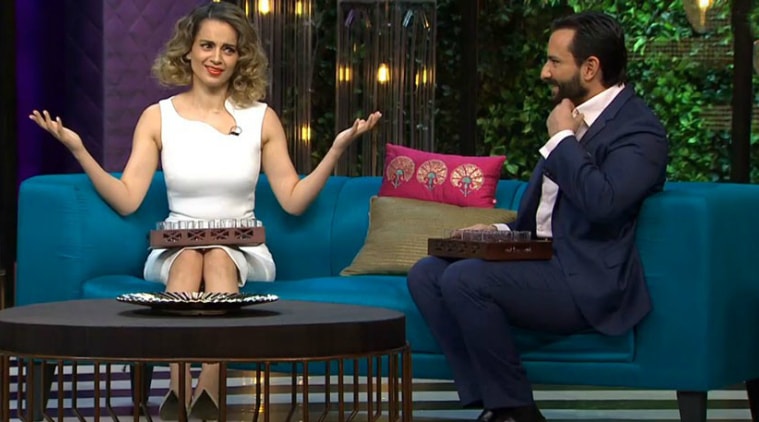 Kangana Ranaut came on Koffee With Karan with her Rangoon co-star Saif Ali Khan.
Having realised that the issue she tried raising boiled down to Kangana Ranaut vs Karan Johar, the actor did admit that nepotism should be discussed in a broader sense than restricting it to a fight between two people. "We should all work it out and not point fingers and make it sound like a fight but to make the society more democratic for everyone," she concluded.
And how did it all begin? It was a Koffee with Karan episode featuring her and Saif Ali Khan where the actor unabashedly took a jibe at the host, calling him the flag-bearer of nepotism. Karan was visibly uncomfortable, but laughed it off. Later, however, when Kangana's statement hit headlines, Karan went on record saying that he was done with the actor playing the 'victim card.' He even said that if she has so much problem, she should leave the industry.